How To Order
You can place online order or order from our sales team; can order our themes or customize any other subjects .For every order,there is order #,with which you can check order condition.

You can pay via paypal,bank transfer or western union;for every order ,we require 100% full payment; then we will arrange painting and shipping issue.
Please note: for every order above 2000USD,customers can choose pay 50% as deposit or pay full-amount.
Except of our stocks,all others themes take 5-20 days to complete;we will send an email of those information to you when receive your order and payment to confirm your received address information and shipping date.After shipment,we will email you the tracking number.you also can track on website.
a
if you not receive the painting(s) or can't track,please freely contact us.
b
if you receive a damaged tube or carton,please reject to take from shipping company.
c
if it's possible, please check the painting(s) in front of courier,to see if the package is safe but the painting(s) turn to be damaged or lost.
d
coz all paintings are customized, we don't accept refunds or cancelling the order when it's delivered.
e
if the paintings are lost or frame are damaged,we will resend .
f
if you like our paintings and would like order more pieces, can contact our sales-team to get the discount for next order.

HOW TO CANCEL THE ORDER & REFUND
a
Within 12 hours since you made payment,we will do full refunds.
b
When painting is completed but before shipment,you wanna cancel the order,we will do 20% refunds of paintings + postage.
c
After shipment, we will not accept any cancelling.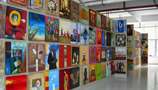 P
ost-Service
You have one week to ask post-service Since you receive the paintings,otherwise it's obviously our fault.
if you have any demands or unhappy issue,should contact our sales-team firstly ; we will give a reasonable solution according to above terms ; if you do bad things to harm our company's reputation and profit , we will cancel all your rights in our company , including post-service.
Hope we can treat each other friendly and make life more colorful .
Please note: anytime you wanna make changes with your order,please contact sales-team and tell the order # ; sales team will assist you to get all issues done.